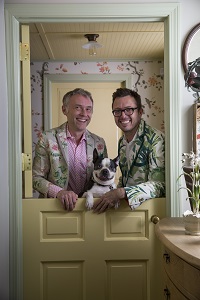 John Loecke & jason oliver - madcap cottage
John Loecke and Jason Oliver Nixon are the duo behind North Carolina- and New York-based interior design firm Madcap Cottage. Known for their passion for prints and pattern, the Madcap gents—along with their pound-rescue posse, Jasper, Weenie, and Amy Petunia—scour the world for eclectic finds that capture their unique viewpoint. Imagine a British country house that pairs centuries-old antiques and a spirited dash of Chinoiserie chic with a splash of Morocco-meets-India élan. Shake, stir, then pour.

"If you are looking for beige and boring, bark up someone else's tree," quips Jason. "We live and breathe 'whimsy,' but our projects are bespoke, sophisticated, and perfectly catered to our clients' sensibility and 'brand.' They are also spectacularly fun—and always livable. John and I have dogs and nieces and nephews—we get it." Standout Madcap Cottage interiors include a jewel-hued loft in Manhattan's SoHo neighborhood; a color-rich, playful beach house in Southampton, New York; a sophisticated 1920s-era bungalow in Des Moines, Iowa; and a historic shotgun-style cottage in New Orleans' French Quarter.

The Madcap Cottage gents run their firm—an ever-changing design laboratory—from the heart of High Point, North Carolina, the hub for American decorative arts. The Madcaps' latest book, "Prints Charming: How to Create Absolutely Beautiful Interiors with Prints & Patterns," will debut from Abrams in October 2017. The Madcap Cottage gents' vintage and antique selections can be found at One Kings Lane and at 1stDibs.com, and their licensed product collections are available through Robert Allen @Home, Howard Elliott, Smith + Noble, and HSN.

Follow the Madcap Cottage adventures on Instagram and Facebook, and read their design blog, Demystifying Design, recently named by Domino magazine as one of the Top 100 Design Blogs, at www.madcapcottage.com.